Basic Blacksmithing Class 1 Cost: $150* (2 days)
*$175.00 (2 days) effective March 1st.
See class details below
12 hours of instruction
Saturday: 9:00 a.m. - 4:00 p.m., Sunday 9:00 a.m. - 4:00 p.m.
During the summer months weekday classes can be arranged
Basic Blacksmithing Class 2, 3, 4 and 5 cost is $90 (1 day)
See class details below
6 hours of instruction
Saturday: 9:00 a.m - 4:00 p.m.
During the summer months weekday classes can be arranged
The fee for all classes includes: one-on-one instruction along with metal materials and coal used. Additional material fee may be required if additional metal/coal is used.
---
Registration
How to register:

Apply Online
Or, simply send an email, call or write to express your interest in taking a class. We'll discuss dates and other details.



Class size ranges from 1 to 4 persons.


Minimum age requirement: 14 yrs.


Come prepared!

What to wear: short or long sleeve shirt, long pants and closed-toe heavy shoes/boots. Dress for the weather.
Safety goggles, apron and gloves will be provided.
Coffee/hot tea/hot chocolate, bottled water and energy drinks along with some snacks will be provided. Please bring $$ for lunch. We will leave the shop for lunch.
---
... and in addition, you will learn...
In all classes there will be several small lecture sessions on history of blacksmithing, shop safety, tools and materials used in blacksmithing.
---

Liability Release Form
All students, prior to starting the class, will sign a (waiver) release of liability form stating that they understand the hazards and will follow the safety guidelines outlined at the beginning of class. If the student is under the age of 18, then a parent must sign the release of liability form.

**Prior to attending the first day of basic blacksmithing class please print, read and fill out this waiver form. I will witness the form prior to class. Thank you.



Notes for the Basic Blacksmithing Class



Boyscout Metalwork/Blacksmith Merit Badge
The highlighted areas of this document must be completed prior to class. A majority of the answers/information can be found in the BSA Metalsmithing merit badge handbook.

Please note that this just for the blacksmith option, the tinsmith and foundry option have been removed.


---
Basic Blacksmithing Class 1 (Beginners)

These 8 basic techniques will be taught and reinforced throughout the 2 days:



squaring
tapering/drawing out
rounding
splitting
fullering
twisting
holepunching
hot cutting



You will make and keep the following items:



5 hooks in various styles: 2 spike, 2 nail hooks and 1 long "S" hook
1 wall mount plant hanger
BBQ Fork
If time allows additional items of your choice may be made, using the above mentioned techniques. This may incur additional cost, depending on the amount of materials used.
Several project based Blacksmithing Classes will be available to students who complete the basic class or have the basic skills mentioned above.
Basic Blacksmithing 2
The making of the following items will be covered, items made will depend upon time:
Door hinges
Door hasp
Door handle
Using the techniques in the basic class plus learning how to make several different style ends for hinges and handles like the arrow head, spade, the bean and the penny.
Basic Blacksmithing 3
The making of the following cooking utensils will be covered, items made will depend upon time:
A Fork
A Spoon
A Spatula
A Dipper
A Sive
Basic Blacksmithing 4
Scroll techniques will be taught in this class:
Items made will consist of shelf brackets and/or a sign hanger.
Basic Blacksmithing 5
Making punches and chisels along with tempering and hardening techniques.
(Taken from the December 1989 issue of Colonial Homes magazine.)

"Blacksmith Shop"
"Dressed in the traditional leather apron of the blacksmith, James Sabo (below) works in front of the forge in the village smithy. In isolated areas such as the Appalachians, the blacksmith not only shod oxen and horses but fashioned pots and pans. Here, Sabo, an athletic trainer at Salem College, makes an iron handle for a ladle. Holding the handle with tongs, he hammers one end into a "Y". To complete the ladle, he will rivet the "Y" to a small bowl that he has shaped from copper. Scholars at Fort New Salem researched historical documents and old furnaces to design the forge. It occupies a cabin (bottom) made of old logs and roofed shingles. Doors of vertical boards open to give needed ventilation. The double door provides access for heavy equipment requireing repair. A corral for horses waiting to be shod adjoins the cabin."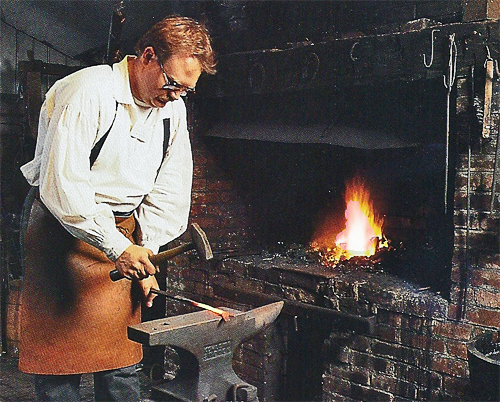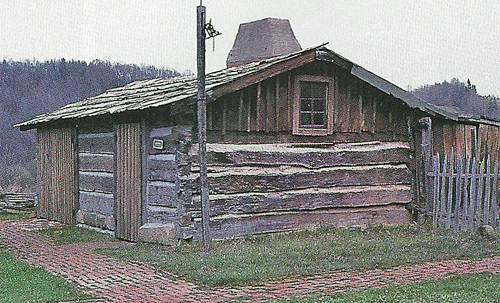 Blacksmithing Publications and References:
These are books that I own and have read several times. Each has some great information and projects listed.
The Complete Modern Blacksmith (combination of his 2 books The Making of Tools and The Modern Blacksmith)
By: Alexander G. Weygers ISBN 978-0-89815-896-0


Practical Projects for The Blacksmith
By: Ted Tucker ISBN-13: 978-0878573127


The Art of Blacksmithing
By: Alex W. Bealer ISBN 0-06015225-7


The Backyard Blacksmith
By: Lorelei Sims ISBN-13: 978-0785825678

*****Check out your local city or county library for copies of blacksmithing books to review prior to buying.